Low Code and Risk Management: How does Low-Code Software Increase Organisational Agility in Relation to Risk?
Every change initiative brings risk. Unless you manage that risk, it can be detrimental to the business. In this article, we explore how LEAP Low-Code platform can mitigate risk in change management situations.
Process Change & Risk Management
In a business that relies on fixed, legacy technology, change is hard and expensive. Even a simple boardroom decision to change the way the business on-boards suppliers can prove difficult to follow through in the company architecture. A process change needs someone – usually IT – to update not only the core process, but the way employees manage documentation and files. Unless the existing system is flexible and easy to use, this change may take a while to ripple through: if at all.
As a result, employees default to informal, manual workarounds. Spreadsheets, Word files and emails are commonly stored in folder structures that may not be backed up. These informal methods are usually subject to manual/analogue risk assessment and controls that are time consuming and expensive.
This make do and mend approach is largely due to the cost of changing existing systems. So what's the answer?
Low-Code can Enable Better Risk Management
Low-code platforms such as LEAP Low-Code software are built on the premise that change is constant. They are designed to accommodate change while maintaining control – including risk assessment and management.
How do Low Code Platforms Improve Flexibility in Relation to Risk?
If you have a traditional hard coded system that is designed to model a business process, then chances are it:
only fits that process at the point the system was originally specified
manages risk either as an afterthought: in a separate system, or in spreadsheets
How is LEAP Low Code Platform Different?
LEAP ensures that your business process is always in sync with your market/customer requirements. As a result, every process comes with its own embedded risk management framework. Consequently, low code and risk management go hand in hand.
When a change needs to be made, LEAP Low-code platform allows you to:
update or change the process as required – quick, easy, cost effective
implement the change without writing code – true in 99% of cases
add or amend risk assessment/management sub-processes as required
record specific risk management data sets as part of the process – no extra work
The Benefits of LEAP Low Code and Risk Management
As a result of this integrated risk management, businesses can:
manage risk with minimal additional resource on IT/development teams
surface more risk incidents – and put procedures in place to manage them correctly
implement new processes quickly and at a lower TCO
monitor the benefit of new processes more rapidly, and update them as required
What Does the Future of Risk Reporting Hold?
Forward-thinking businesses that implement an integrated risk management system are already looking to the next step. That is: how will new technologies, such as AI and deep learning, change the way we manage and report risk reporting?

The immediate challenge with AI / deep learning / machine learning is separating fact from fiction. There is Hollywood AI which is the type most
The Challenges of Machine Learning to Risk Reporting Skill Shortage
Firstly, machine learning requires skilled data scientists to implement/maintain the data/algorithms. Right now, there is a scarcity of those with the required skills.
Secondly the data used to deduce algorithms using machine learning needs to be clean. Put simply, if your training data misses 50% of risk instances or has 50% false positives, then the algorithm generated using machine learning will have the same characteristic errors.
Again, LEAP Low-Code platform can help here. By taking snapshot data when a process outcome or decision outcome becomes known, decisions can be automatically "double blinded" to ensure the validity of the data. As a result, snapshot data is ideal as an input for machine learning routines. As we show very simply below: the  resulting algorithms provide a high degree of accuracy in real world situations.
Your Algorithm Will be Affected by the Data That you Input:

Bad Data in Will Result in a Bad Algorithm

Bad Data in Will Result in a Bad Algorithm
Clean Data
The third challenge is complexity. At MICology, we run regular workshops to explain AI/Machine Learning to executives. The illustration below shows how one ML model is able to successfully identify fruit from three dimensions – length, width, colour. It is easy to visualise how machine learning performs this task because it can be illustrated in a 2D diagram.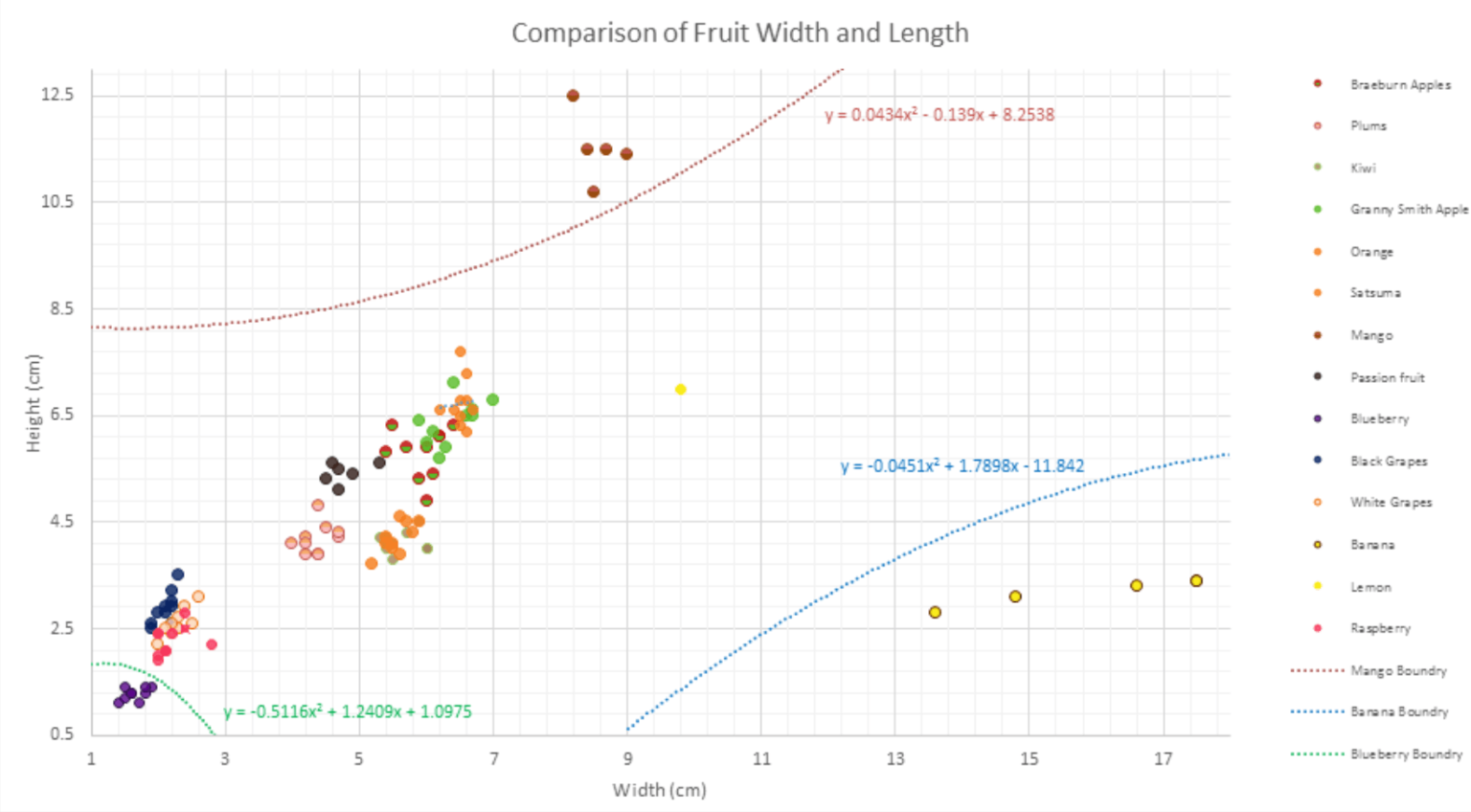 Typically, real world machine learning scenarios have high single digit or early teen dimensions. Therefore, the resulting algorithm is likely to be very complex and not easily understood by humans (however good their maths). As a result, Machine Learning has a long way to go before it can benefit a complex real-world scenario. For example, take a regulated Claims environment, where a company is required to explain a decision to a customer or regulator.
We trust that you found this article of interest. To learn how LEAP Low-Code can help you better manage risk in your business, please Contact Us for a demonstration.