Best Practice Complaints Management: A MICology Guide
Complaints processes vary by industry and organisation, and are often complex. As a result, your organisation may have to deal with multiple types of complaint, all with different data requirements and procedures. This guide to best practice complaints management explains how the LEAP Low-Code platform can help you manage your complaints processes more effectively.
The first stage of the complaints process is First Notification (FN). Also known as the Listening Stage, it's essential to capture the issue in a complete and accurate manner. Ideally, you should also record the preferred route to resolution.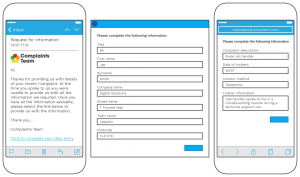 How LEAP Helps:
LEAP complaints handling software makes it easy to capture FN information. For example, you can import forms filled via your website. Moreover, LEAP makes it easy to build a comprehensive FN questionnaire into the process itself. By capturing the information electronically, either via your call handlers or on a self-service basis, data is entered just once. It then updates the core complaint record, seamlessly, and in real time. As a result, you reduce rekeying, duplication and errors.
At the end of the FN stage it is best practice to formally acknowledge the complaint. You can do this in writing, taking care to clearly state the details of the complaint and provide information about your complaints process.
Decide Whether to Follow A Formal Or Informal Process
It is usual practice to offer the complainant a choice between informal and formal routes. This applies within both regulated and non-regulated environments. Simple complaints, such as those requiring an apology, may well follow an informal route. This follows a less structured process and allows you to reach a mutually agreed solution. Typically, regulators limit the time that the informal route can take – usually 3-5 days. However, if the complaint cannot be resolved using the informal route, then the more structured formal process takes over.
How LEAP Helps:
A single point of contact is usual best practice for formal routes. Consequently, LEAP enables you to assign this within the workflow. Moreover, it's easy to assign any other roles and responsibilities at the same time. As a result, you can be sure that formal complaints follow a formal process for resolution.
Best Practice Complaints Management: Investigate and Assess
Best practice complaints management now moves into the assessment stage. Here, you must assess how severe the complaint is likely to be. In addition, you must decide what further information you need to gather before you take action. Without a formal electronic process management system, the paper trail can spiral.
How LEAP Helps:
LEAP allows you to build a workflow to help you gauge the scale of the investigation. You will likely need to go back to the team member/manager who worked with the customer for comment. LEAP allows you to automate this 'request for information' and to chase individuals and teams inline with your company guidelines. LEAP instigates and captures all this electronically, or via email. Moreover, you can label each person/team in ways that make sense to you.
Appoint External Experts and Advisers
You may need to involve external experts/advisers, depending on the severity of the complaint.
How LEAP Helps:
implementation of sub-processes allow third parties e.g. insurers to access the system and keep track of progress
task/actions monitoring ensures that the process is kept moving, and that all parties know what is required of them
configurable user accounts allow third parties to input into the process, subject to your access permissions
All of this can be configured depending on the type, level and severity of the complaint. Changes are easy to make and can be carried out by non-technical users, subject to your own access permissions.
Best Practice Complaints Management: Reject, Uphold and Manage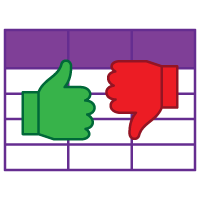 Now, you reach the point of adjudication. You must decide to reject the complaint, or uphold the complaint either fully or partially.
How LEAP Helps:  LEAP produces the necessary correspondence and manages any resulting sub processes.
Moreover, if the complaint is upheld, then you may need to instigate corrective action or compensation. Again, you can configure LEAP to manage these processes. Tasks could include delegating the work to particular people/teams, and authorising payments of credits, when required.
Now is a great time to assess what to be change in your process. Moreover, this is often a mandatory requirement. The action can be simple as identifying training needs to redesigning a product or service. LEAP allows you to manage this preventative action as a sub process of your main complaints process. The result: the complaint is less likely to re-occur, leading to a better experience for future customers.
Communicate In A Timely Manner
Regulators often insist that complaints are managed to strict timescales. The timescale will have set requirements, for example, you must:
acknowledge the complaint within a set timescale
answer correspondence in a timely manner
set a time limit for a mutually agreed resolution to be agreed, after which a referral to the regulator is mandated.
signpost the regulator throughout the process.
How LEAP Helps:
You can include all these requirements in the LEAP workflow.
Milestones and timescales are easy to manage. For example, you can set these at the beginning of the complaints process, and configure them at all the important touch points. Moreover, you can build in alerts to let you know when you're about to miss a milestone.
The milestone sub system also provides a valuable audit trail. This shows how your organisation performs with respect to the milestones set for the process.
In addition, LEAP includes process templates for many regulatory complaint processes. These can be easily adopted and amended to suit your organisations requirements.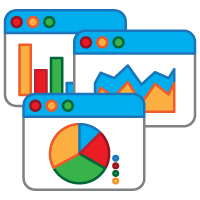 Using LEAP, you can report on all the complaints received and their resolution.  Reports can be scheduled and delivered automatically via emails at preset intervals. Alternatively, dashboards can be configured to provide analytics and information in real time.
To find out how LEAP can help to automate and improve you complaints processes, Contact Us today.